Milwaukee Postal Worker
Kills 1 and Self
Two Others Wounded
Milwaukee, Dec.19, 1997---Turned down for promotion to a day job and written up for sleeping at work, a postal clerk pulled a pistol and settled some old scores during an overnight, holiday-rush shift Friday.
Anthony Deculit, 37, killed a co-worker he had feuded with, wounded the supervisor who had reprimanded him and injured another worker before he put the 9mm handgun in his mouth and ended his own life, even as friends begged him not to do it.
"I said,'Tony, you got a wife, a brand new baby, Christmas is right around the corner and in five days we'll be off...You don't want to do this," said postal worker Michael Witkowski.
The latest post office shooting--so common now that the phrase "going postal" has become slag for a violent outburst--erupted out of the tedium of early morning mail sorting.
Shootings Happened On Overnight Shift
About 1,500 workers were on duty at the city's main postal facility when the shots rang out about 12:45 a.m. Workers ducked for cover and scrambled to get out. One even set off a fire alarm. The first police officer on the scene happened to be in the building mailing a letter.
As many as a dozen shots were fired, and among the first targets was Deculit's supervisor, Joan Chitwood, who was hit in the right eye.
The 55-year-old Chitwood, who was hospitalized Friday in satisfactory condition, last month sent Deculit a warning letter after catching him sleeping on the job.
Deculit, who was placed on five months' probation, responded by filing a grievance against Chitwwod and requested a transfer to another facility where he could be placed on the day shift. The postal union said the four-year veteran of the Postal Service was turned down flat.
Race May Have Played a Role
There was also tension between Deculit and the man he killed. Co-workers said Deculit and Russell "Dan" Smith, 42, had several disagreements and disliked each other so much they didn't speak on the job.
Racial discrimination may have played a part in setting off Deculit, the NAACP said. The gunman was black and his three victims were white.
Smith was shot in the head, back and arm, and another postal worker was slightly injured with a shot to the foot.
After the burst of gunfire, Witkowski found himself looking down the barrel of Deculit's gun.
"He was standing there pointing the gun at me," Witkowski said. "He said, 'Mike, you don't want to be here.' And I told him, 'Tony don't do this.'"
Gunman Asked Witkowski to Call His Wife
Deculit asked Witkowski to call his wife and gave him the phone number. Witkowski wote it down on a piece of mail.
Seconds later, Deculit turned the gun on himself.
"He blew his brains out," Witkowski said, "I don't get it."
Invistagators did not know how Deculit got the gun into the building, said postal inspector Ida Gillis. The office plans to deploy postal police in uniforms at the facility until a secuity review is done, she said.
In the past decade, shootings by postal employees have become all too common.
The worst incident was in August 1986 when Patrick Henry Sherrill, a part-time letter carrier in Edmond, Okla. killed 14 colleagues and himself. He faced the posibility of being fired.
In September, a postal clerk in Miami Beach shot his former wife and her friend as they stood in line at the post office, then killed himself. The women survived.
The Postal Service has worked to improve training of supervisors and identification of problem employees.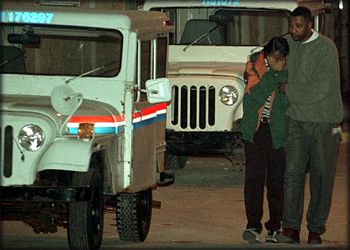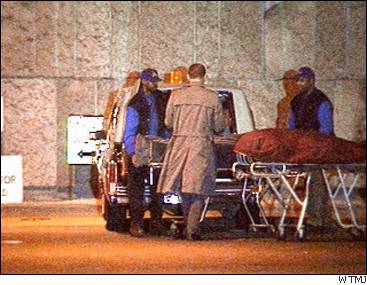 July 9, 1995-A postal worker walks up to his boss in a processing center in City of Industry, Calif., pulls a handgun from a paper bag and shoots him to death. Bruce William Clark, 58, was sentenced in 1996 to 22 years in prison without parole after pleading guilty to second-degree murder.
March 21, 1995-Christopher Green, 29, a former postal worker burdened with "a mountain of debt" kills four people and wounds another during a holdup at Montclair, N.J., post office. Green was sentenced to life in prison on Sept. 20.
May 6, 1993-Postal worker Larry Jason kills one and wounds two at the post office garage in Dearborn, Mich., before killing himself.
May 6, 1993-Fired postal employee Mark Richard Hilburn kills his mother then walks into a post office in the Dana Point community near Los Angles and shoots two workers, killing one. He was convicted in 1996 of murder, attempted murder and other felonies, but a mistrail was declared in the sanity phase of the trail.
Nov. 14, 1991-- Fired postal worker Thomas McIlvane kills four supervisors and wounds five employees at a post office in Royal Oak, Mich., and then killed himself.
Oct. 11, 1991--Joesph M Harris, a fired postal worker, kills a former supervisor and her boyfriend at their home in Wayne, N.J., then goes to the Ridgewood post office where he kills two mail handlers as they arrived for work. He was sentenced to death and was on death row when he died in 1996 after suffering a seizure in his cell.
Aug. 10, 1989--Postal worker John Merlin Taylor of Escondido, Calif., shoots and kills his wife at their home, then drives to the Orange Glen post office, where he shoots and kills two colleagues and wounds another before killing himself.
Aug. 20, 1986--Patrick Henry Sherrill, a part-time letter carrier in Edmond, Okla., kills 14 people in the post office there before taking his own life. Sherrill had a history of work problems and faced the possibility of being fired.
Back To Homepage